SKYE Portable Air Purifiers make clearing the air a breeze. Take charge of every fresh breath at home, at work or anywhere you want healthier air. Regular maintenance keeps SKYE performing at its peak, so let's talk about air purifier filter replacement. How often should you change the filter? And how, exactly, do you do it?
Here's your step-by-step guide for getting the best breath of your life from your SKYE Portable Air Purifier.
How Often to Replace HEPA Filters in Air Purifiers
SKYE is one smart machine. Not only does it arrive ready to connect with your smart home, but it alerts you when it's time to replace the filter. The LED indicator on the control panel will light up red to let you know maintenance is due. Monitor SKYE air purifier from anywhere with your smart phone and set a calendar alert for six months because that's how often to replace HEPA filter in air purifiers for maximum efficiency.
How to Replace SKYE Filters
You're five easy steps away from successful air purifier filter replacement. How often you read the directions doesn't matter — but following them carefully does. Sign up for automatic replacement filter delivery and never worry about running out.
WARNING
Unplug unit from the electrical outlet before starting replacement procedure.
1. When it's time to replace your SKYE filter, start by unplugging your air purifier.
2. Lay the air purifier on its side and unscrew the filter cover a quarter turn counter clockwise. The filter cover can then be removed from SKYE and you can access the air filter.
3. Take out the old air filter. You may want to vacuum any dust on the inside of the unit.
4. Insert the replacement filter, replace the filter cover and turn it clockwise a quarter turn to lock it in place. Make sure the cover is fully flush to ensure the safety switch is activated and Skye can turn on.
5. Stand up SKYE and plug it back in. Easy, right?
You can also replace the air purifier UV lamp just as easy.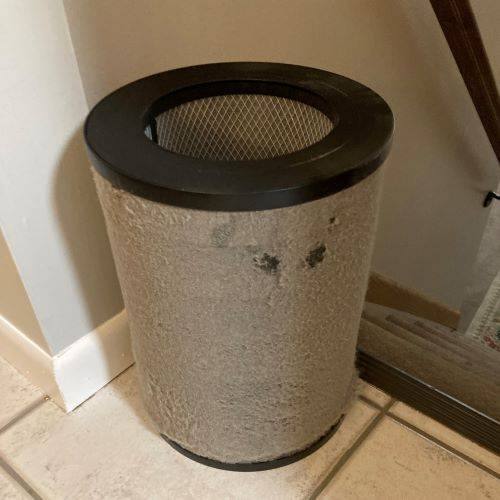 Skye will notify you long before it gets this dirty