Also Available at the Following Retailers
In Duct Furnace UV Air Purifiers
Is your home the freshest and cleanest it could be? Are you bad odors or possibly airborne mold, bacteria and other allergens from your home's ductwork? Air Health in duct air purifier makes it easy to keep your home clean and fresh.
Air Health offers 2 options to clean the air in your duct work
Haven - By implementing state-of-the-art UV ultraviolet light in-duct air purifier technology, the Haven Whole House Air Purifier continuously attacks undesirable elements before they can circulate through your home.
Haven Plus - Includes UVC ultraviolet light induct technology, plus this Whole House Air Purifier increases the air quality by adding patented PRO-Cell™ and AirFresh technology to reduce pathogens, deconstruct volatile organic compounds and make your home smell great.
Both options are easy to install, in as little as 15 minutes, and plugs into a standard household outlets.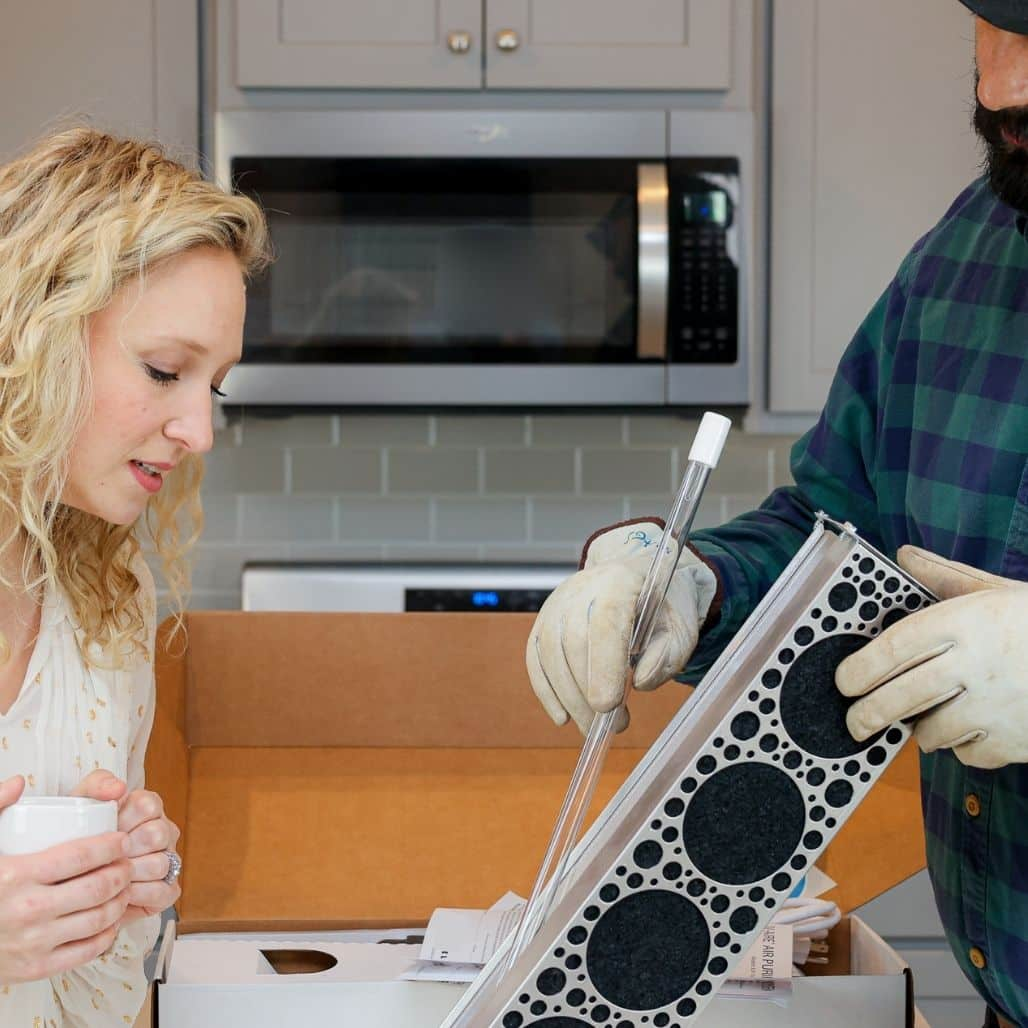 Better Breathing and Lower Bills
Air Health in-duct air purifiers reduce airborne contaminants, without producing any ozone, for comfort you can feel good about. Enjoy the cleanest and freshest air in your home with state-of-the-art UV, PCO and carbon filtration. Plus, an in-duct UV air purifier mounted in your HVAC system helps keep the AC coil free of fungi, mold and other toxins. That means your entire HVAC system will run more efficiently, use less energy and may result in lower maintenance costs and utility bills. And because in-duct air purifiers are engineered for low energy consumption, you can let them purify your family's air 24/7.
A Fresh Perspective on Cleaner Indoor Air with an AC Air Purifier
At Air Health, we're on a mission to clear the air. Our team of passionate designers and engineers brings a fresh perspective to cutting-edge technology with years of experience in crafting commercial air purification systems. We believe in spaces that are safe from harmful pollutants, allergens, molds, viruses and unwanted smells. Help your family live, work and play in safer spaces with Air Health in-duct air purifiers.
Learn More About HVAC Air Purifiers
Frequently Asked Questions about Induct UV Products
What does a UV induct air purifier do?
The UV light reduces airborne bacteria, viruses, mold and more before they circulate. The use of ultraviolet light for air purification has been proven effective in hospitals, schools, daycare centers, restaurants, and hotels. It's even recommended by doctors. Plus, an induct UV air purifier can keep your AC completely free of any organic toxins, which in turn makes it able to run more efficiently! Because of this, your AC doesn't need to work as hard to keep you cool, using less power and saving money.
Are In Duct Air Purifiers easy to Install?
Yes, An induct air purifier can be installed without the extra expense of hiring a contractor and can be completed in as little as 15 minutes. It is installed in the main supply or return duct and operates continuously to automatically purify the air in the home 24 hours a day.
Where should a UV in duct air purifier be installed?
Best location for optimum performance is over or under the AC-Coil. This location will maximize the duality for Coil Irradiation to reduce bio films for a clean efficient performance and also will work for Air Treatment.
Is the whole home air purifier always on, even when furnace blower is not running?
Yes, lamp is illuminated 24/7. The effectiveness for coil irradiation is during no fan operation. Air treatment is during fan on operation.
How long should the UV bulbs last?
We recommend replacing lamps every 12 months. Our lamps are warrantied for 90 days against burn out.
Does this UV light air purifier produce ozone?
The Haven and Haven Plus do not create ozone. We certify our products to UL 2998: Air Cleaner Validation for Zero Ozone Emissions.
How long is the AC cord attached to the Air Purifier?
Will this hurt the ductwork?
No, it will not harm the ductwork.