Air Health Skye 5 Stage Air Purifier - Superior Performance and Smart Capabilities - Breathe Easier with Cleaner, Fresher Air in Your Home or Office
CLEANER AIR: Get more than just a filter, get REAL air purification, to make your home's air the cleanest and freshest
FILTRATION: Pre-filter (Large Particles), Carbon (Odors), H-13 HEPA (Removes 99.97% of 0.3-micron particles)
POWERFUL UVC: High output UV lamp.
GREAT FOR LARGE ROOMS: 420 CFM (Cubic Feet per Minute) covering 1600 sq ft in only 30 minutes (3200 sq ft in 1 hour)
ACTIVE MONITORING: 7 sensors actively monitors and adjusts for ideal air quality
QUIET: Low noise from 22 Decibels on level 1 (inaudible) - 59 Decibels on level 10 (refrigerator)
REDUCES VOCs: Reduces 80% of chemical odors (i.e. cleaners, new carpet and new paint) w/i 2 hours
SMART TECHNOLOGY: WiFi enabled to easily control with the Skye app or smart devices
CERTIFICATIONS: AHAM Verified, CARB Certified, plus 3rd party tested via Innovative Bio Analysis. View Testing and Certification
REVIEWS: Rated 97 out of 100 from Modern Castle and also seen on Newswatch
(Show More)
Choose fast and free shipping or you may choose expedited shipping for a little more.
Try Skye for 30 days. If you are not completely satisfied (although we are confident you will) you can return it to us with absolutely no risk or cost. We even cover the return shipping cost.
We are incredibly proud of our craftmanship and offer a 2 year warranty on Skye. If anything happens in that 2 years, give us a call and we will make it right.
5 customers are viewing this product
Air Health Skye 5 Stage Air Purifier - Superior Performance and Smart Capabilities - Breathe Easier with Cleaner, Fresher Air in Your Home or Office
Modern Castle Rated SKYE 97 out of 100
"The Air Health Skye is a fantastic large coverage air purifier. Not only did it showcase excellent purification performance, but in 1 hour it can cover 3,200 sq. ft. In our tests, the Skye removed 97% of particulates in the air, and reduced PM2.5 and PM10 to 0.1. It uses 5 different filters to clean the surrounding air, 2 of which focus on removing odors and VOC's. If you want air that not only smells clean but IS clean, the Air Health Skye is an excellent option."
Skye Certifications
When it comes to your family, you want an air purifier that has been tested and verified for effectiveness. Skye has been tested by the following organizations for effectiveness. Click to learn more. 
How Does the Skye UV Air Purifier Measure Up?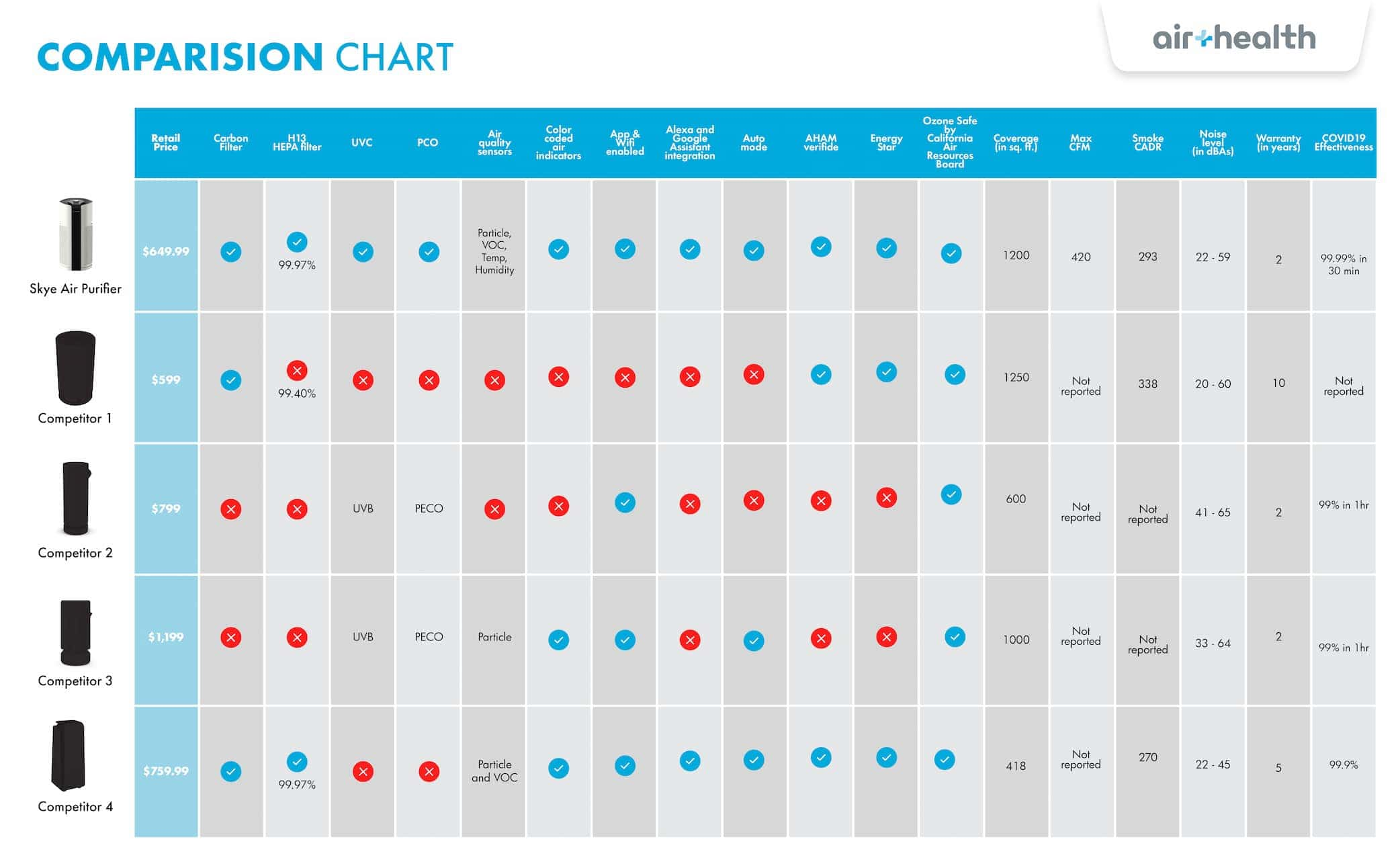 Independently tested
The SKYE unit demonstrated a 99.99% net reduction of recoverable active SARS-CoV-2 virus in the air of after 30 minutes of operation. 
Click below to see the full report