Take a peek inside the road to better breathing. Air+Health put all its collective experience and expertise to the ultimate air purifier test in a quest to clear the air for everyone.
The Uninvited Guests in Your Home
Your home is your happy place. It's also the last place you expect to find serious dangers to your family's health. But the truth is that the air in your home may be playing host to all kinds of uninvited guests that can cause serious health problems. If members of your household experience drowsiness, discomfort or more dire illnesses like allergies or asthma, the culprit may be poor indoor air quality. Contaminants like mold, dust mites, pollen and pet dander can cause sneezing, coughing, skin rashes and other reactions that make home less than comfortable.
Why Make a New Kind of Air Purifier?
Long before the COVID-19 crisis, a couple of turbine engineers from North Carolina started thinking about how ultraviolet light could make breathing easier a reality for everyone. They'd seen it work in industrial and commercial applications, but they knew residential homes also needed cleaner, healthier air. They set about working toward an affordable, energy-efficient air purifier that could work at home or on the go. Soon, they found that by researching what causes indoor allergies, how UV light neutralizes contaminants and which designs used the least amount of electricity, the development of a best-in-class portable air purifier was inevitable.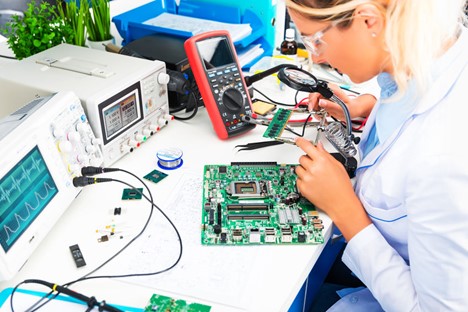 The Air Purifier Test Process: Design, Refine, Redesign
All kinds of ideas were entertained in the process of developing an air purifier test that would lead to a breakthrough. Thorough research, lots of brainstorming and ruthless second-guessing led the Air Health designers and engineers down a long road of trial and error. Sifting through ideas helped them narrow down the options to only those worthy of a design. These were pored over, deconstructed, modified and redesigned for better performance, higher efficiency and more user-friendliness. Aesthetics were also a consideration, as air purifiers had traditionally been unsightly plain white boxes. The Air+Health team had their eye on a modern aesthetic that would be welcome in any home or office.
SKYE Air Purifier Performance Test Results
The result of all this meticulous research and design is SKYE, a portable air purifier like none other. This sleek, contemporary machine combines three different types of filters to capture 99.97% of particles for the cleanest air possible:
Pre-filters to capture larger particles like hair and fur, extending the life of the HEPA filter
Activated Carbon Air filters to capture odors
High-Efficiency Particulate Air (HEPA) filters – to capture miniscule particles, hundreds of times smaller than a strand of hair
What really sets SKYE apart in terms of air purifier performance results is its use of ultraviolet light technology. UV
light is an effective germicide, meaning exposure to this light frequency can neutralize most bacteria, viruses, molds and other pathogens. By emitting UVC light rays into the air, SKYE reduces all those microorganisms that make it difficult to breathe easily. In fact, the SKYE reduced the SARS-COV-2 virus that causes COVID-19 by 99.99% in less
than 30 minutes, verified by an independent third-party lab. This beauty also runs quietly, seamlessly connects to your smart home and uses very little energy to create powerful air flow at 420 cubic feet per minute covering 1200 square feet (imagine three spacious living rooms of clean air).
Better Air Anywhere
Choosing the right air purifier for your family's needs is easy at Air Health. Our whole-house in-duct air purifiers make it easy to clear the air in every room of your home with barely a second thought. Skye portable air purifiers let you take a fresh breath anywhere, like at the office or in your kid's play area. Let our proven technology and energy-efficient designs join you on the journey to a healthier lifestyle.